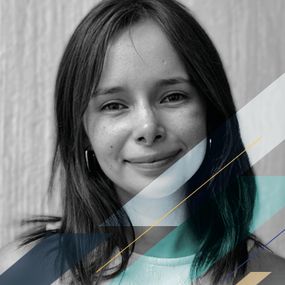 Mariana Gauna
Monterrey, Sales & Relationship Management, ESG Investing
Mariana's journey as a sales professional began at MSCI, with an internship role in the ESG Sales Support team in Monterrey. With a keen interest in sustainability, it was a natural choice to apply for a role focused on ESG. During her time in the Sales Support team she supported Sales Specialists in servicing MSCI clients.
"We built a very good partnership with the Sales Specialists. They were incredibly appreciative of our team, and made clear how grateful they were that we went above and beyond to help their work."
The impact of a Client Service Specialist
After graduation Mariana transitioned to her current role in the ESG Client Services team, now as a full-time employee. This change marked a significant departure from her previous internal-focused role, as now she is the the first point of contact for our clients. She is handling client requests like troubleshooting technical issues, providing methodology support and helping with data integration.
"One of the most enjoyable aspects of working in this team is the opportunity to contribute to the ESG and climate objectives of our clients. Knowing that my day-to-day work helps investors build their investment strategies around their objectives is truly inspiring."
Collaboration across teams
Mariana is the bridge between clients and internal teams such as our Technical Client Service, Research and Data teams. Whenever a question or issue arises that lies outside of her expertise, these teams are available to help.
"I enjoy the dynamic nature of the role, working with different teams internally to provide the best possible support to our clients. The ultimate goal of my team is to ensure clients have a smooth experience and receive accurate information regarding MSCI's ESG and Climate solutions."
Cultivating a culture of learning
What stands out most for Mariana about MSCI's culture is the attitude towards learning and growth. Throughout the years she always received the support and encouragement she needed to deepen her knowledge and acquire new skills. For example, when she identified opportunities to streamline manual processes using PowerBI, she took charge of the project, developing reports that are now being used across her team, making the day-to-day work easier for everyone. Now, with over three years of tenure she is helping out junior colleagues and newcomers, sharing her experience and knowledge.
"People at MSCI genuinely care about your growth and success. I felt welcomed from day one and found a network of mentors and colleagues who believe in my potential. If someone expresses an interest in learning about something beyond their core role, there are always people who are willing to share their knowledge and experiences."
Talent Community
Join our Talent Community today and stay ahead with the latest job opportunities and career insights.