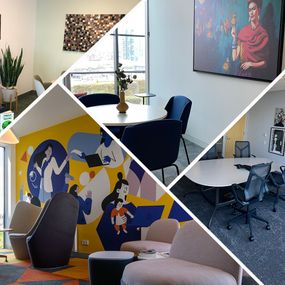 From private offices to ERG rooms
At MSCI we are committed to creating a workspace where everyone feels welcome, appreciated, and fully empowered to do their best work. In recent years, we embarked on a journey to get rid of physical boundaries between our senior leadership and our employees, encouraging everyone to work more closely together. Thus, we started to turn former private offices into rooms dedicated to our various Employee Resource Groups (ERGs), to be used as spaces for learning, collaboration and client meetings. These rooms are thoughtfully designed and decorated by our ERGs to reflect the culture and history of the people they represent.
ERGs: Building bridges within MSCI
Our Employee Resource Groups play a pivotal role in advancing MSCI's commitment to diversity, equity and inclusion, serving as internal networks that offer support and education for our employees. Their activities help drive inclusion and belonging across our company.
Our current ERGs include the Black Leadership Network, Pride & Allies, Women's Leadership Network, Hola! MSCI, Asian Support Network, All Abilities, Women in Tech and the Climate Action Network. Dedicating these rooms to them is a tangible reminder of our continued support to the missions of our ERGs.
ERG Rooms: A symbol of inclusivity
Each of these rooms serve as a physical representation of their respective ERG. Hola! MSCI, for example, have decorated their space in our New York office with furniture and accessories created by Hispanic individuals, highlighting the common factors that unite people with Hispanic heritage. Meanwhile, the room owned by Pride & Allies aims to educate its visitors by showcasing historical moments integral to the LGBTQ+ community.
Some of the groups use their rooms to highlight local artists: such is the case for the Black Leadership Network, who have displayed a painting by the contemporary Harlem artist Ronald Draper in their room in New York. In our Frankfurt office the local Women's Leadership Forum and the Climate Action Network chapters share a space, in which they are featuring artworks by promising young local artist Elisaveta Braslavskaja.
Our Budapest office recently unveiled their first ERG space, for which the local Women's Leadership Forum chapter has commissioned a mural that showcases the role models that live among us: working moms and women who succeeded in science, arts and sports. We have also expanded the number of ERG rooms in London lately, dedicating spaces to the local chapters of our Women's Leadership Forum, Pride & Allies, Black Leadership Network, Asian Support Network, Climate Action Network and All Abilities.
These rooms are not only an aesthetic tribute to our ERG's but also a functional spaces. They are all equipped to be used in the day-to-day work as conference- or hybrid meeting rooms, or spaces for client meetings. For some of these rooms the functionality even ties into their theme. For example, our All Abilities ERG have equipped their dedicated space in our newly renovated Mumbai office with height adjustable tables, special sit/stand chairs and braille signs.
Learn more about Diversity, Equity & Inclusion at MSCI: https://www.msci.com/who-we-are/diversity-equity-and-inclusion
Take a look at our various ERG rooms below:
Women's Leadership Forum - Budapest

Climate Action Network - Mumbai

Climate Action Network - New York

Women's Leadership Forum - New York

Women's Leadership Forum - Stockholm

Climate Action Network - Stockholm

Women's Leadership Forum - Paris

Climate Action Network - Paris

Climate Action Network - Paris

Black Leadership Network - New York

Pride & Allies - New York

Pride & Allies - New York

Hola! MSCI - New York

Hola! MSCI - New York

All Abilities - New York

All Abilities - Mumbai

Women's Leadership Forum - Mumbai

Pride & Allies - London

Women's Leadership Forum - London